There are rules for storage and operation with wood glued panels. Here you could find information about features of wooden end-products, and how to use them.
Introduction
A glued panel is made of wood. Regardless of the species, all panelshas a moisture level of 8-12%. This is the optimal humidity level for the joinery production. The panelis glued using D3 glue suitable for indoor use.
Wood is a natural living material exposed to environmental influence. Depending on air humidity, wood can absorb or desorb water. This will happen until the product is covered with varnish or oil.
Therefore, working with a glued panel requires followingseveral operating instructions. Failing to follow them may cause deformation (buckling) or checking on butt ends.
Such problems are mainly caused by humidity changes during transportation and storage in places with high orlow humidity.
Main storage rules for glued panels:
All products must be packaged.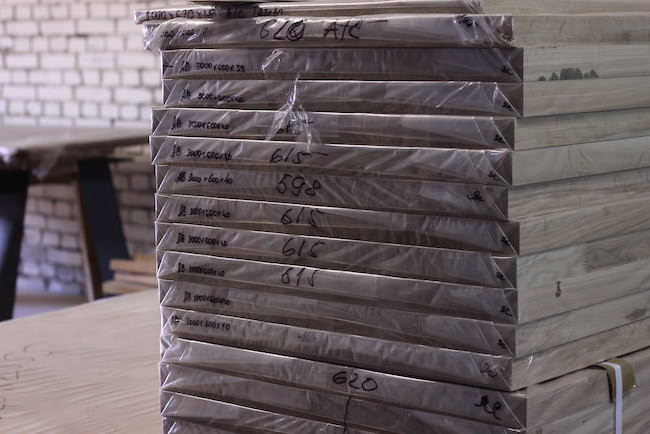 2. Do not unpack a glued panel immediately after delivery. It has to "adapt" tothe indoortemperature. This is especially true in winter, when products are brought into a warm environment after sub-zero temperatures during transportation, and if you open the package immediately, problems will be inevitable.
3. Do not store a glued panel in highly humid premises, where you conduct wetrepair works such as plastering, puttying, screed coating.
4. Glued panels mustbe stored indry and ventilated premises, in horizontal stacks on cushions.
Main assembling rules for glued panels:
1. Before assembling a glued panel, especially in winter, we suggest a week-long acclimatization of a glued panel.
2. A glued panel is designed for installation in rooms with a temperature of 10 to 30°C and a relative humidity from 40 to 60 %.
3. Do not leave glued panels near heaters.
4. Installation of the furniture board in the room under construction or renovation should be carried out when the room is completely dry. Both low humidity and high room temperature should be avoided.
Mounting rules:
After unpacking the product, polish butt ends of glued panels with varnish, wax or oil. This procedure takes 5-10 minutes and will spare you a lot of problems in future.
In winter, the humidity level in heated rooms is very low, and usually nobody bothers buying and mounting moisturizers. The butt ends of a glued panel are responsible for the most part of water desorption (about 75 %) and if the environment is dry and hot, the panel will crack on edges.
Thus, it is not a rare casewhen a panel has a humidity of 10 % (i. e. normal) in the middle and 5-6 % on edges what leads to problems such as buckling or checking. Polishing of butt ends helps to avoid that. We recommend to repeat this procedure after cutting the panel.
To summarize the above, one more recommendation: buy glued panels in advance to give the products time to acclimatize.