Stragendo
High-quality hardwood for a reasonable price. Delivery across Estonia, Finland, Latvia, etc
Learn more
Our advantages
Product Availability
All items on the site are in stock and always available for shipment
Product Calculation
We will calculate the cost of the entire product and help you choose the material
Fast Shipping
We organize inexpensive delivery within 2-3 days in Estonia, Sweden, Finland
Order Customization
We provide maximum customization ( any cutouts, coating, notches, and much more)
B2B - it's easy with us!
Special terms for work in large b2b (we'll deliver from Ukraine and produce the required volume)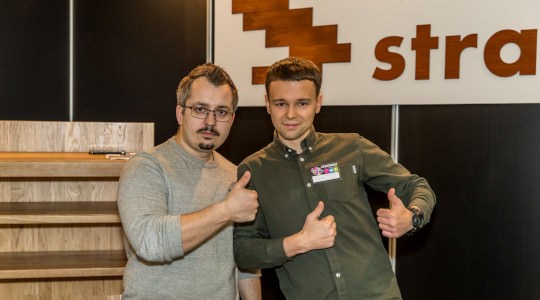 Glued wood is Stragendo
Stragendo OÜ company was founded in 2005 in Tallinn. We have been selling glued wood made of oak, ash, and other species since the first days of our existence. Stragendo is one of the biggest lumber and joinery stores in Estonia. Currently, we stock more than 1000 different glued and solid wood products such as furniture boards, blanks, logs, boards, veneers.
If your company - Produces furniture, stairs, other joinery, - Makes decorative elements, - Repairs, creates interior space, - Performs construction work-Perhaps you deal with glued wood as part of your day-to-day activities.
Stragendo is always ready to help with the selection of the required type of wood and product. On request, we will saw the product to the required size and arrange delivery to your warehouse or workshop. If you need to produce a large batch of non-standard sizes of glued wood, please get in touch with us. We try to cooperate effectively with the Ukrainian production. Thus, we can promptly produce the required volume of furniture board, bar, or other glued wood in a short time.
How we are working
Produce quality materials
Store at our warehouse in Tallinn and make finished products
Deliver to EU countries
3
Estonia, Latvia, Sweden, Finland
Estonia, Latvia (1-2 days)
Finland, Sweden (2-3 days)
Glued wood has several advantages over solid wood. First, it is stronger and more resistant to stress. Secondly, it allows you to use as much wood as possible, reducing wastage.
The main types of glued wood include furniture board, horizontal blanks for tabletops, wooden blanks for posts, legs and handrails.
Also, glued wood is classified by thickness (if it is a board), by section (if it is square or rectangular blanks). Depending on the wood type, it can be oak, ash, beech wood.
There are some precautions when working with glued wood. There are some precautions when working with glued wood. For instance, you should not open the package immediately after delivery. We suggest that you start working with the material 2-3 days after delivery.
Subscribe to our newsletter
We send you only the best offers. No more than 1 letter per month
* By subscribing to the newsletter, you agree to the personal data processing and information receipt in accordance with the user agreement