Workpieces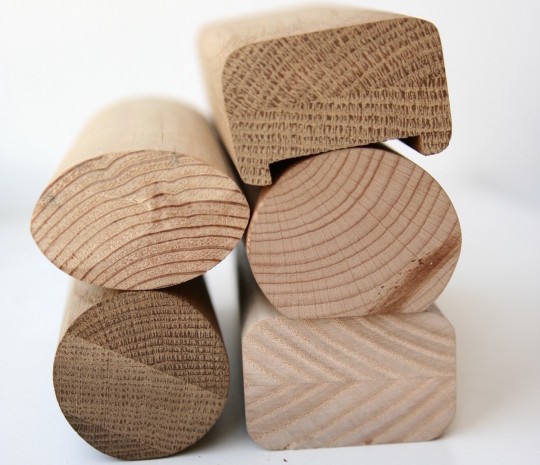 This detail is a glued or solid component for using in stairs or furniture. The glued panel appeared when woodworkers understood that they do not have enough time to make all the work. Wooden details are next step after glued panels. It is a semifinished product made according to most common measurements. The component helps in minimization of excessive work.
Buying lumber, cutting, gluing, first grinding - all these processes can be left in past, in case of using the detail. In our stocks, there are two main types of the components are handrails for a stair and legs for tables. All the components could be square or round, solid or glued.
The most popular detail in our stocks is 42mm round solid handrails. This item is ideal for use with glass balustrades. A woodworker needs only to make holes, final grinding and to finish the handrail with oil or varnish. After these procedures, the component is ready for installing. Square components could be used also as underframe of a table or just as vertical or horizontal decoration.
Also, it is necessary to note that glued components could be glued in different ways. If for your object it's important to show the wood texture in a special way, please specify.
All products in this category
Subscribe to our newsletter
We only send the best deals. No more than 1 letter per month
* by subscribing to the newsletter, you agree to the processing of personal data and the receipt of information in accordance with user agreement