Stragendo
High-quality hardwood for a reasonable price. Delivery across Estonia, Finland, Latvia, etc
Learn more
Our advantages
Product availability
All products on the site are in stock and always ready to ship
Calculation of products
We will calculate the cost of the entire product and help you choose the material
Fast shipping
We ourselves organize inexpensive delivery within 2-3 days in Estonia, Sweden, Finland
Order customization
We customize the order for you as much as possible (all cuts, holes, coatings and so on)
B2B - it's easy with us!
Special conditions for working in a large b2b (we will bring from Ukraine, make the required volume)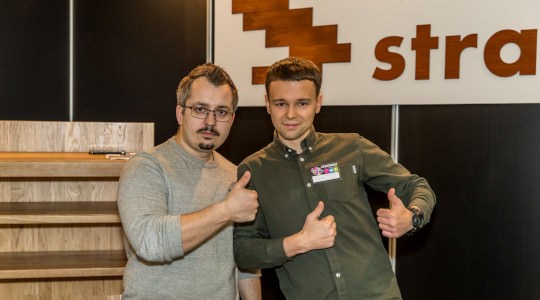 Glued wood is Stragendo
Stragendo OÜ company was founded in 2005 in Tallinn. Ever since the first days, we are selling glued wood from oak, ash and other wood species. Stragendo is one of the largest carpentry and glued wood stores in Estonia. Today in our warehouse there are more than 1000 different glued and solid wooden products - furniture panels, moldings, workpieces beams, boards, veneers.
If your company - Produces furniture, stairs, other joinery, - Makes decorative elements, - Repairing, creating interior spaces, - Providing construction works. You may use glued wood in your daily activities.
Stragendo is always ready to help in making the choice of the necessary wood species, type of product. Upon request, we will cut the product to the required size and provide delivery to your warehouse or workshop. If you need to make a large batch of custom sized glued sheets - just send us send inquiries. We are trying to work flexibly with the manufacture in Ukraine. So that we can quickly produce the necessary volume of furniture board, timber or other glued wood in a short amount time
How we are working
We produce quality materials
We store in a warehouse in Tallinn and make finished products
We deliver to EU countries
3
Estonia, Latvia, Sweden, Finland
Estonia, Latvia (1-2 days)
Finland, Sweden (2-3 days)
Glued wood has some advantages over solid wood. First, it is stronger and more resistant to stress. Secondly, it allows to use maximum value of a wood, reducing the amount of waste.
The main types of glued wood include furniture panels, horizontal workpieces for worktops, wooden planks for posts, legs and handrails.
Other important classifications of glued wood are by thickness (if it is a shield) and by section (if it is square or rectangular blanks). Depending on the type of wood, it can be - oak, ash, beech wood.
There are some precautionary rules for working with glued wood. For example, you should not open the package immediately after delivery. And it is suggestable to start working with the material at about 2-3 days after the purchase.
Subscribe to our newsletter
We only send the best deals. No more than 1 letter per month
* by subscribing to the newsletter, you agree to the processing of personal data and the receipt of information in accordance with user agreement